Treatments to Repair Your Damaged Hair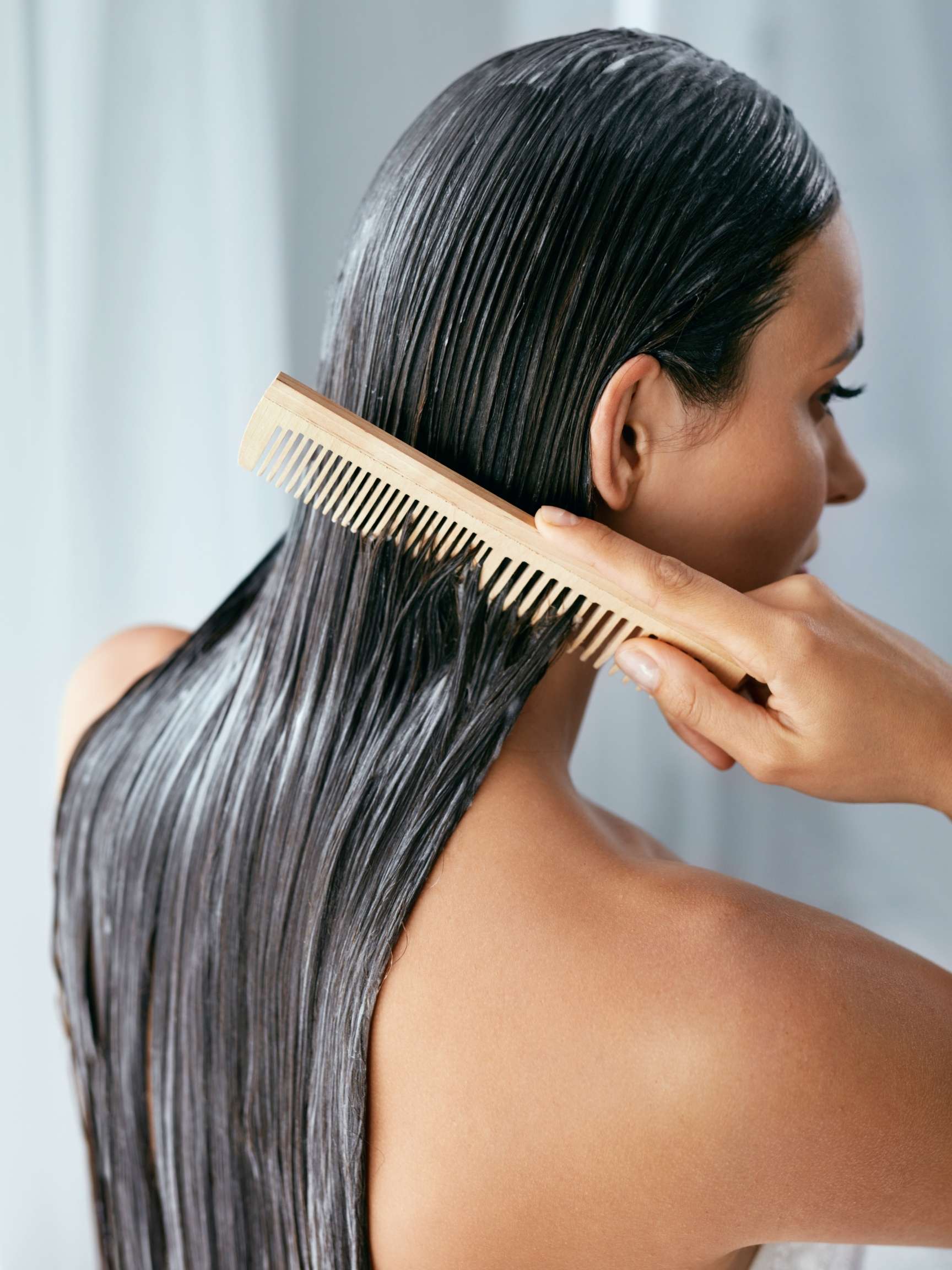 How to Repair Damaged Hair
Hair care is an important part of maintaining your luscious locks. If your hair feels dry and rough, or if it's lacking softness and shine, there could be some underlying severe damage. The good news is that damaged hair can be repaired. There are all sorts of dry hair products and corrective actions that you can take in order to restore your hair back to a healthy state.
Keep reading to learn tips and tricks to fix damaged hair.
P.S. We also have a new hair kit created specifically for repairing hair and promoting new growth!
Trim Split Ends to Repair Damaged Hair
Split ends are not only unsightly, they leave your hair prone to further damage! If left untrimmed, split ends cause the hair to unravel from the bottom up. This results in dull hair that is more likely to become frizzy and hard to manage.
If you notice that you have split ends, schedule an appointment with your hairstylist for a trim. This doesn't mean that you have to lose inches of hair. Just ask your stylist to dust the ends so that most of the split ends are removed. The end result will be strong, un-frayed, healthy hair!
You can also prevent split ends by using strength-boosting ingredients found in products like fortifying shampoos and conditions. Leave-in treatments can also keep split ends at bay.
Treat Your Hair with Care
Did you know that your hair is most vulnerable when it's wet? Your wet hair is more likely to be damaged if it's curly or fine. When you're fresh out of the shower or bath, be kind to your hair! Don't vigorously rub your hair with a towel. It's safer to blot it or use a soft t-shirt or cloth.
You also want to avoid brushing your hair unless you're using a brush meant for wet hair. A wide-tooth comb is the best option for detangling wet hair. And never use an elastic band when your hair is wet, as it can cause breakage.
Minimize the Use of Heated Hair Tools
Blow dryers, flat irons, and curling irons are products that most people use on a daily basis. Whether you want to achieve luscious waves or a salon-worthy blowout, there's a heat-based tool to achieve just that. But with the use of heat comes tons of damage, including brittle and dry hair.
One of the biggest mistakes when using heated styling tools is using too high of a temperature. Super high temperatures should only be used on coarse or super thick hair. Otherwise, it's best to use mid-range temps to achieve the desired look.
Whether you're straightening, curling, or blow drying your hair, always use a heat protection product. These works to shield your hair from the heat that can cause thermal damage.
Use Hair-Healthy Foods
Food is for more than just eating! There are all sorts of foods that you can apply to your dry, damaged hair in order to add moisture and hydration. The best part? You can do this all from the comfort of your own home.
One of the best treatments is an avocado and egg mask. Avocados offer a large amount of vitamins, minerals, and healthy fats to moisturize the hair. Eggs provide much-needed protein to thoroughly repair the hair and add strength.
To make this hair mask, mix one avocado and one egg into a paste consistency. Then apply the paste to your hair and use a wide-toothed comb to evenly coat your strands. Leave the mask on for at least 30 minutes and then rinse thoroughly.
Other foods that can improve your hair health include olive oil, almond oil, coconut oil, honey, egg whites, and mayonnaise.
Apply a Nourishing Hair Mask
Using conditioner on a routine basis, especially after shampooing, can help with dry hair. But if you're looking for the ultimate healing and conditioning for hair damage, invest in a high-quality hair mask. These products contain all sorts of moisturizing and repairing ingredients, including:
Borage oil
Keratin
Gamma-linolenic acid
Ceramide
Shea oil
Coconut oil
These masks are designed to penetrate deep into the hair to treat and repair damaged, dry, and hard-to-manage hair. Each strand will be nourished, leaving your hair visibly stronger, shinier, and, of course, healthier.
Use Leave-In Treatments
Leave-in treatments protect your hair around the clock. What's nice about these products is that they aren't washed away when you shampoo and rinse. When shopping for a leave-in treatment, look for one that best matches your hair type.
For example, you'll find products designed for frizzy, unruly hair, which will contain moisturizing and hydrating ingredients that will smooth your hair and make it more manageable. There are also leave-in treatments for colored hair, thin hair, and even oily hair!
To get the most out of a leave-in treatment, always apply it to damp hair. Evenly and thoroughly apply the product using a wide-tooth comb.
Always Use Quality Hair Care Products to Prevent Damaged Hair
Have you ever looked at the ingredients that your hair products contain? Chances are that you can't even pronounce most of the compounds that you put on your hair on a routine basis! In order to keep your hair healthy, and to prevent further damage, you must use high-quality products.
Cheap low quality mass produced ingredients are commonly found in shampoos, conditioners, and other hair care products . However, they only dry the hair, leaving it dull and frizzy. Continuing to use these products will only continue the cycle of damaged, hard-to-manage hair.
Repair Your Damaged Hair with Rx Systems PF
Stop dealing with dry, brittle hair and instead invest in high-quality, effective hair care products. It's never too late to restore shine and volume to your hair.
Rx Systems PF offers a variety of hair repair products. From volumizing shampoos to vitamins to protein conditioners, we've got products that your hair will love. With routine use, you'll see and feel the difference!
Browse our website to see all of our hair repair products.